Keep the Change: A Clueless Tipper's Quest to Become the Guru of the Gratuity (Hardcover)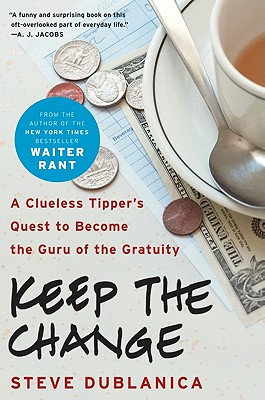 Description
---
An irreverent, pavement-pounding, eye-opening exploration of a neglected part of the American economy: tipping
Tipping is huge in America. Almost everyone leaves at least one tip every day. More than five million American workers depend on them, and we spend $66 billion on tips each year. And everyone recognizes that queasy feeling—in bars and restaurants, barbershops and beauty parlors, hotels and strip clubs, and everywhere else—when the check arrives or the tip jar looms. Omnipresent yet poorly understood, tipping has worked its way into almost every part of daily life.
In Keep the Change, bestselling author Steve Dublanica dives into this unexplored world, in a comical yet serious attempt to turn himself into the Guru of the Gratuity. As intrepid and irreverent as Michael Moore or A. J. Jacobs, Dublanica travels the country to meet shoeshine men, strippers, bartenders, bellhops, bathroom attendants, and many others, all in an effort to overcome his own sweaty palms when faced with those perennial questions: Should I tip? How much? Throughout he explores why tipping has spread; he explains how differences in gender, age, ethnicity, and nationality affect our attitudes; and he reveals just what the cabdriver or deliveryman thinks of us after we've left a tip.
Written in the lively style that made Waiter Rant such a hit, Keep the Change is a fun and enlightening quest that will change the way we think—and tip.
Praise For…
---
"Writing a best-seller is a big deal, and the Waiter deserves a 20% tip for serving up such a fun summer read."
-Forbes.com

"For enlightenment on how to handle such situations, I reached out to The Waiter. You know, the New York City-based guy who created the wildly entertaining Waiter Rant blog, which is now a cannot-put-it-down book."
-Seattle Post-Intelligencer

"Waiter Rant has all the fixings for fun....What Anthony Bourdain's tell-all about life in the kitchen did for Hollandaise sauce, Waiter Rant will do for side salads."
-Los Angeles Times

I really enjoyed WAITER RANT. The book is engaging and funny, a story told from my polar opposite perspective. I will now do my best to act better as a Chef -- and I dare say, I'll never be rude to a waiter again, as long as I live.
-John DeLucie, Chef, The Waverly Inn

"The main attraction here is [Dublanica's] acerbic, biting and often hilarious accounts of life behind the scenes at the front of the house."
-Wall Street Journal

The other shoe finally drops. The front-of-the-house version of Kitchen Confidential; a painfully funny, excruciatingly true-life account of the waiter's life. As useful as it is entertaining. You will never look at your waiter the same way again–and will never tip less than 20%.
-Anthony Bourdain

"The Waiter dishes candidly on the outrageous behavior of staffers and customers at the undisclosed upscale restaurant where he works...[Waiter Rant] leaves no doubt that servers deserve not only 15 percent but an occasional pound of flesh, too. In his debut memoir, the Waiter extracts it with panache."
-American Way

"…funny and touching."
-Chicago Tribune

"Anyone that has ever eaten in a restaurant is going to want to grab [this book]."
-Matt Lauer, Today

"…here is my unabashed recommendation: If you eat out with any regularity, read this book!"
-Chicago Sun-Times

"Lucky for the reader, The Waiter has kept his eyes open and is willing to gossip about what he has seen from the other side of the menu."
-Tampa Tribune

"In the casual, confessional tone of a seasoned blogger, The Waiter tells of corruption, intrigue, drug abuse, heated romance and of course tips, weaving it all into a humorously detailed memoir. . . . A heartfelt, irreverent look at the underbelly of fine dining."
-Kirkus Reviews

"Full of amusing tales of big tippers and tightwads told by waiters, shoeshine men, bathroom attendants, strippers and more."
-Newsday

"Half travelogue, half manifesto, the book recounts his misadventures in tipping as he travels across America talking with a cross-section of the 3 percent of the workforce that relies on tips."
-Mother Jones

"Funny and illuminating, it's recommended to anyone seeking enlightenment about gratuities."
-Library Journal

"Giving a little extra just got easier with a master's guide to gratuities. New York is the capital of tipping and no one understands that better than Steve Dublanica. The 42-year-old waiter-turned-author shares his expertise in Keep the Change."
-Daily News

"I'm not sure what the proper etiquette is for tipping authors, but we should all give a nice bonus to Steve Dublanica for writing such a funny and surprising book on this oft-overlooked part of everyday life."
-A.J. Jacobs

"A hilarious, irreverent etiquette guide."
-Forbes

"Funny and fascinating. . . . After reading this book, you'll be sure to generously tip your hotel housekeepers and parking valets."
-Wall Street Journal

"A hilariously uncensored etiquette diatribe."
-Kirkus Reviews

"Even seasoned service veterans might be surprised by the discoveries revealed in the book."
-Boston Herald

PRAISE FOR WAITER RANT: "…amusing and informative…along with the stories, some of which are hilarious, Dublanica provides useful advice for the customer...Waiter Rant is as delightful as it is irreverent."
-Washington Post Book World

"Fortunately, The Waiter (who has since outed himself as a chap called Steve Dublanica) does more in this book than get even; he provides thoughtful insights into how the restaurant business works."
-Bloomberg News

"[Waiter Rant] offers an irreverent, insightful look inside the industry (complete with blurb from Anthony Bourdain)."
-Boston Globe