Crunch Time: A Novel of Suspense (Hardcover)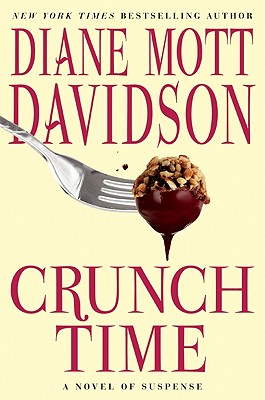 Description
---
Caterer and sleuth extraordinaireGoldy Schulz returns in another tastyand suspenseful adventure fromNew York Times bestselling authorDiane Mott Davidson
Colorado caterer Goldy Schulz cooks up bigtrouble as she tries to help her longtimefriend and fellow chef Yolanda Garcia. Whenthe rental house shared by Yolanda and herirrepressible aunt Ferdinanda is destroyed byarson, the pair move in with cop-turned-PIErnest McLeod. But then Ernest is shot deadand his house is set on fire, nearly killing Goldy, Yolanda, Ferdinanda, and nine beagle puppiesthat Ernest had recently rescued from a puppymill.
Concerned for her friends, Goldy invites themto stay with her while the sheriff's departmentinvestigates. Yet even Goldy's house isn t safe, and after a failed break-in by an unknownintruder a cop is sent to keep an eye on things.Then a second body is found.
Swapping her chef's hat for a sleuthing cap, the intrepid Goldy steps up the investigation.But she's got to move fast. It's crunch time toclose in on a killer, before he can close in on her.
Filled with danger as well as laughs, wonderfulfood, and scrumptious recipes, CrunchTime is a delicious indulgence sure to satisfyall of Goldy's fans.
Praise For…
---
"Enjoyable."
-Publishers Weekly on Crunch Time

"Davidson's fans will not be disappointed."
-Kirkus Reviews on Crunch Time

"Fans who relished Davidson's previous culinary mysteries will assuredly eat up this newest one, too."
-Booklist on Crunch Time

"Terrific."
-Richmond Times-Dispatch on Crunch Time